Expert
Carpet Cleaning Services
in Richmond, IN
Proud to Serve the Vibrant City of Richmond
Welcome to Richmond, Indiana, a city steeped in rich history and renowned for its strong sense of community. In the heart of Wayne County, Richmond offers a delightful blend of small-town charm and modern amenities. Explore the historic downtown area, visit the impressive Richmond Art Museum, or enjoy the scenic beauty of the Hayes Arboretum. Richmond is a place that captures the hearts of residents and visitors alike.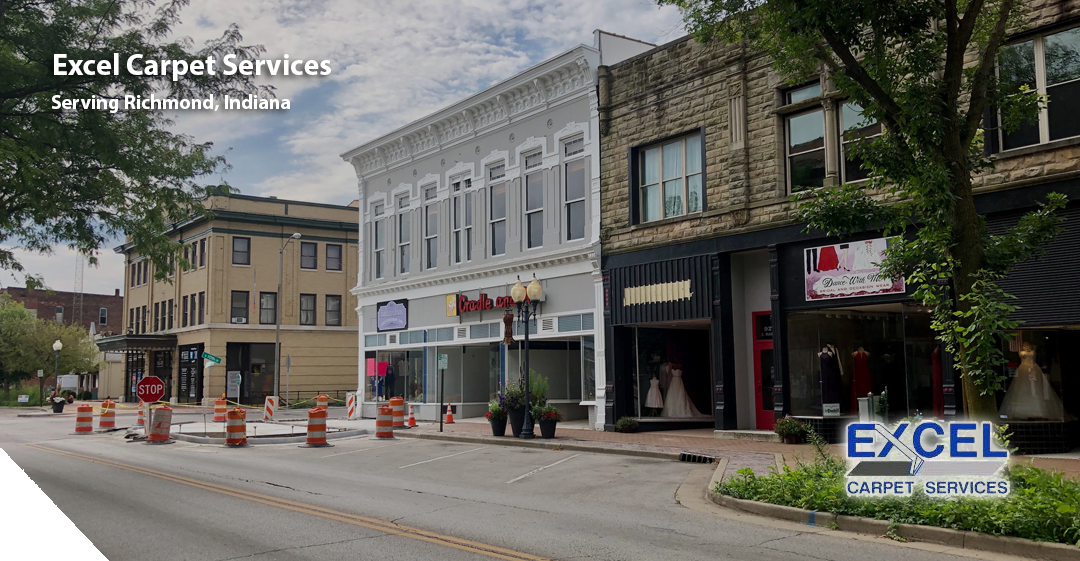 Professional Carpet Cleaning Services for Sparkling Clean Floors
Excel Carpet Cleaners is your trusted provider of professional carpet cleaning services in Richmond, Indiana, and the surrounding areas. Our experienced team is dedicated to delivering exceptional results and restoring the beauty of your carpets. Here's what sets us apart:
Comprehensive Residential Carpet Cleaning:
We specialize in residential carpet cleaning, offering comprehensive services to meet your unique needs. From routine maintenance to deep cleaning, our skilled technicians utilize advanced techniques and high-quality equipment to thoroughly clean your carpets, leaving them fresh, vibrant, and allergen-free.
Efficient Commercial Carpet Cleaning:
Our commercial carpet cleaning services are tailored to businesses in Richmond, Indiana. We understand the importance of maintaining clean and presentable carpets in commercial spaces. Our professional team works efficiently to minimize disruptions to your operations. Whether it's an office, retail store, or restaurant, we have the expertise to meet your commercial carpet cleaning needs.
Emergency Flood Restoration Services: Rapid Response for Water Damage
When unexpected flooding occurs, Excel Carpet Cleaners is here to provide emergency flood restoration services in Richmond, Indiana. Our dedicated team understands the urgency and complexity of water damage situations and is ready to respond promptly to mitigate the damage. Here's why you can trust us for your flood restoration needs:
Rapid Response and Water Extraction:
Time is of the essence when dealing with water damage. Our emergency response team is available 24/7 to quickly assess the situation, extract water, and prevent further damage. Using advanced equipment, we efficiently remove excess water from your property, minimizing the risk of structural damage and mold growth.
Thorough Drying and Dehumidification:
We employ professional drying and dehumidification techniques to ensure complete moisture removal. Our team carefully monitors the drying process, using specialized equipment to eliminate hidden moisture, preventing the growth of mold and mildew. As a result, we restore your property to its pre-damage condition, ensuring a safe and healthy environment.
Professional Cleaning and Restoration:
Besides water extraction and drying, we offer professional cleaning and restoration services to salvage carpets and upholstery. Our expertise in handling water-damaged materials allows us to restore your belongings whenever possible. We remove stains, sanitize affected areas, and deodorize to eliminate any lingering odors, leaving your space fresh and revitalized.
Schedule Your Carpet Cleaning or Flood Restoration Service Today
Transform your carpets and restore your property after water damage by contacting Excel Carpet Cleaners today. Our dedicated team is ready to provide exceptional carpet cleaning and flood restoration services in Richmond, Indiana. Don't wait—schedule your appointment now and experience the difference we can make.
Call Excel Carpet Cleaners at 513-822-4190 to book your appointment and enjoy clean, fresh carpets or reliable flood restoration services. Let us help you create a cleaner and healthier environment for your home or business in Richmond, Indiana.
Our Menu Of HEALTHY HOME Cleaning Services
Commercial Carpet Cleaning
Pet Odors & Stain Removal