Your Trusted
Carpet Cleaning and Repair Services
in Cincinnati, OH
Proud to Serve the Vibrant Community
Our team is proud to serve Cincinnati, Ohio – a vibrant city known for its rich history, unique neighborhoods, and strong community spirit. At our carpet cleaning service, we are proud to serve this exceptional community and provide top-notch cleaning services to our customers.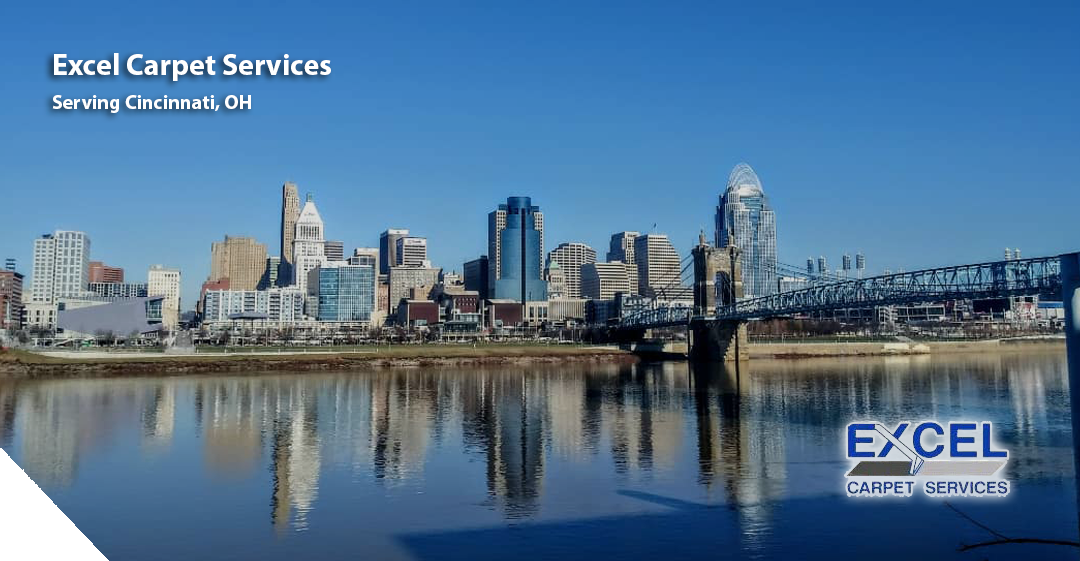 Through our many cleaning services, we strive to meet the demands of any of our customers, from families who need to maintain their carpets throughout the busy year, to business owners trying to keep up with the traffic through their building.
Carpet Repair and Flood Restoration with Excel Carpet Cleaning
Our team specializes in providing professional carpet repair services, including patching, re-stretching, and seam repair. We understand that accidents happen, and our team is dedicated to helping you restore your carpets to their original condition. We understand that damage can come to your carpet in a myriad of ways, and we are prepared to match whatever needs that could arise throughout the year.
However, everyday life isn't the only thing that can damage a carpet, floods can cause significant damage to your home, including your carpets. Our flood restoration services are designed to help you quickly recover from water damage, including removing excess water, drying out carpets, and removing odors.
Your furniture deserves just as much attention as your carpets. We offer professional upholstery cleaning services to help you maintain the appearance and condition of your furniture. Our team uses safe and effective cleaning methods to ensure that your furniture stays clean and fresh for years to come. We also offer rug cleaning services for area rugs, Persian rugs, and other delicate fabrics that need special care. No matter what type of furniture or rug you have in your home, we can help you keep it looking its best.
Among our services, we a also cover:
While there are many cleaning products available on the market, they may not be the best solution for your carpets. Professional carpet cleaners have the knowledge and expertise to properly clean your carpets and remove stubborn stains, without damaging the fibers. We use the best equipment and techniques to ensure your carpets are not only clean but also looking their best.
There is only so far a household vacuum can go, and our team is ready to ensure that you're starting for the best possible results. We can even provide advice on how to care for your carpets and extend their life.
Experience the Excel Difference, Call Today!!
If you're looking for reliable and effective carpet cleaning services in Cincinnati, Ohio, look no further than our team. We are dedicated to providing the highest quality services to our customers and helping you maintain a clean and healthy home. Contact us today at 513-822-4190 to schedule your appointment!
Our Menu Of HEALTHY HOME Cleaning Services
Commercial Carpet Cleaning
Pet Odors & Stain Removal